Sheet Goods
---
Call before you come, the website is not up to date during the quarantine.
---
---
Plywood
---
No plywood right now.
---
Acrylite Sheets (Plexi Glass)
---
6mmx63"x102" Red Acrylite GP P-95
Great for signs, displays, and more! This sat in a warehouse a little too long so some of the paper mask sticks a bit, but cleans off just fine.
$49ea by the pallet
18 PCS $954.77 Tax Included(about the same as 3 sheets retail)
---
---
Hardboard
---
1/8"x4'x8' Tempered Pegboard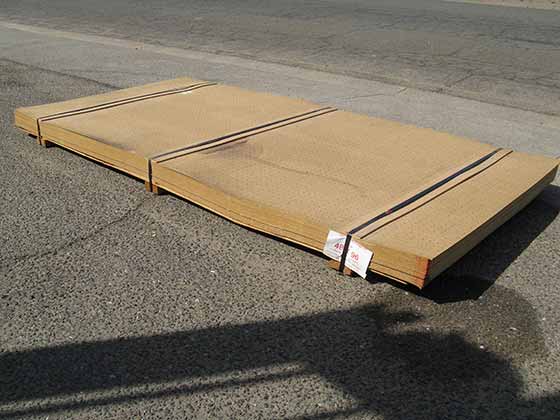 $3.99ea 25pc pallets
---
---
Particle Board
---
1/2"x4'x8' Underlayment Particle Board
Standard underlayment grade, great for under flooring to cusion your knees and joints. Linoleum adhesive is designed for standard particle board.
$10.99ea by the unit
26 PCS 832 SqFt $312.17 Tax Included
52 PCS 1664 SqFt $624.34 Tax Included
---
1 1/8"x5'x8' Particle Board Black Vinyl 2 Sides
23 PC Pallet $325 Tax Included
---
Warning:
Drilling, sawing, sanding or machining wood products generates wood dust and other substances known to the State of California to cause cancer Avoid inhaling dust generated from wood products or use a dust mask or other safeguards to avoid inhaling dust generated from wood products. Wood products emit chemicals known to the State of California to cause birth defects or other reproductive harm. California Health and Safety Code Section 25249.6