Fence Products
This page is for pallet pricing only. Many of these products are not available for retail.
---
Cedar
---
5/4"x8"x6' STK Western Red Cedar Rabbeted Bevel Lap
These boards are thick on one edge and thin on the other with a notch(rabbet) on the thick edge for the thin edge to fit under to give you privacy. It's a great look made from durable Western Red Cedar.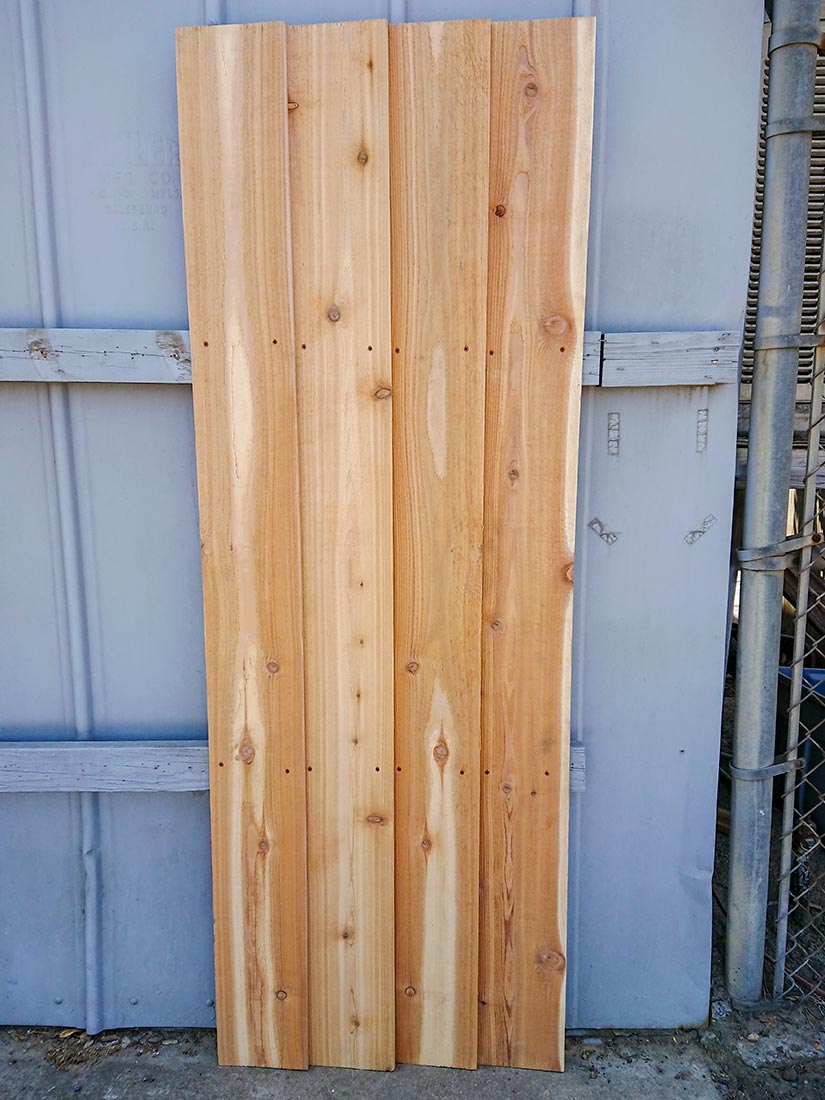 Priced at only $3.25ea by the pallet making them less expensive per foot than the standard dog ear cedar at any home center!
---
1"x6"x6' Cedar Dog Ear Fencing (Full 6")
(0.625 in. x 6 in.)
Full 6" width fence boards for less than the 5.5"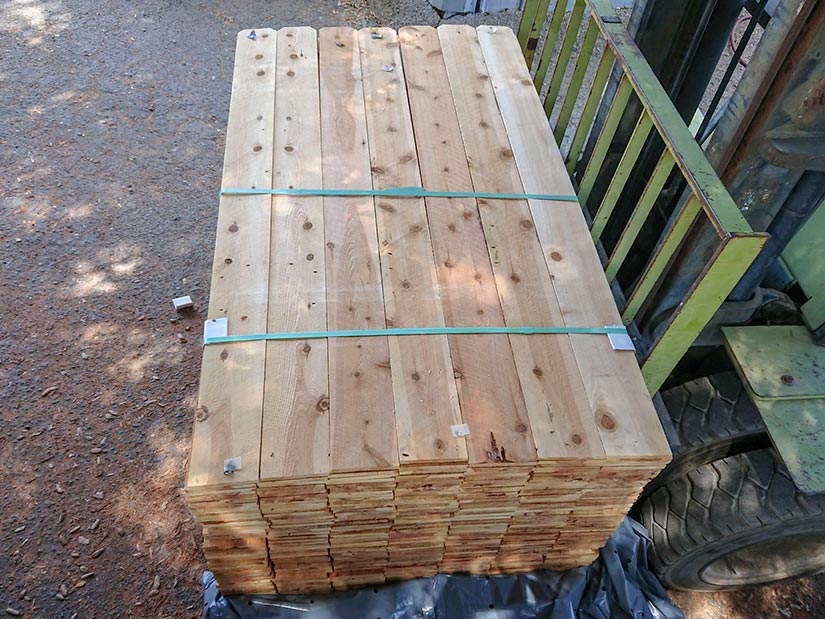 364 pc pallets cover up to 182' of fence
$1025 Tax Included
---
42"x8' Primed Cedar Gothic Fence Panels
1"x4"x42" Cedar Pickets attached to 2 rails.
Great for the front yard or sectioning off the backyard. Classic garden fence.
20 Panel pallets $330 Tax Included
---
5/4"x6" #3 Western Red Cedar Planks
(0.968 in. x 5.5 in.)
Super thick boards!
This is the grade below the standard #2 so there will be more character than the standard grade.
Great price at $3.90ea for 6' or $5.20ea for 8'(check with your building dept. 8' fencing is not legal in many areas)
Great for horizontal fences too!(Footage figures are for vertical fences)
270/6' 123' of fence $1145.14 Tax Included
270/8' 123' of fence $1526.85 Tax Included
270/8' 123' of fence $1526.85 Tax Included
80/8' 36' of fence $452.40 Tax Included
88/8' 40' of fence $497.64 Tax Included
---
1"x12"x6'&8' #4 Cedar
(0.875 in. x 11.25 in.)
Resawn material smooth 1 side and 2 edges. This isn't a true fence board, but they have been popular for fencing being that they are a full 7/8" thick instead of the standard 5/8". They are mixed 6' & 8' in the same pallet so there will be some to cut down and you would have to dog ear them if you want that style, but they are 75¢LF by the pallet so that's only $4.50 each for the 6' and $6ea for the 8'(6' boards are over $10 retail these days).
45/6' 59/8' 104 PCS Total, up to 97.5' of fence $605.19 Tax Included
---
Redwood
---
24"x20' Redwood & Wire Garden and Snow Fence
Quick and easy fence for sectioning off your yard or garden. Great for holding back snow as well.
Single rolls $22.99ea
---
Gate
---
GateMate Ready Gate
GateMate Ready Gate Kit includes 4 corner braces, 2 Hinges, 1 Gravity Latch, and screws. Black powder coated for durability.
$23.99ea
---
Posts
4"x4" Pressure Treated
For maximum life: When you put your post in your hole make sure to backfill 4"-8" with something that drains well and will keep the concrete from forming a cup underneath your post.(Otherwise your post will become waterlogged and extremely weak.) Pour your concrete slightly above ground level and slope it away from your posts.
48pc pallets Green .40 ACQ (Call First, in stock most days, but can be up to 3 business day lead time for some lengths)
Call for pricing and availability.
---
Warning:
Drilling, sawing, sanding or machining wood products generates wood dust and other substances known to the State of California to cause cancer Avoid inhaling dust generated from wood products or use a dust mask or other safeguards to avoid inhaling dust generated from wood products. Wood products emit chemicals known to the State of California to cause birth defects or other reproductive harm. California Health and Safety Code Section 25249.6